Leenie's Cruise!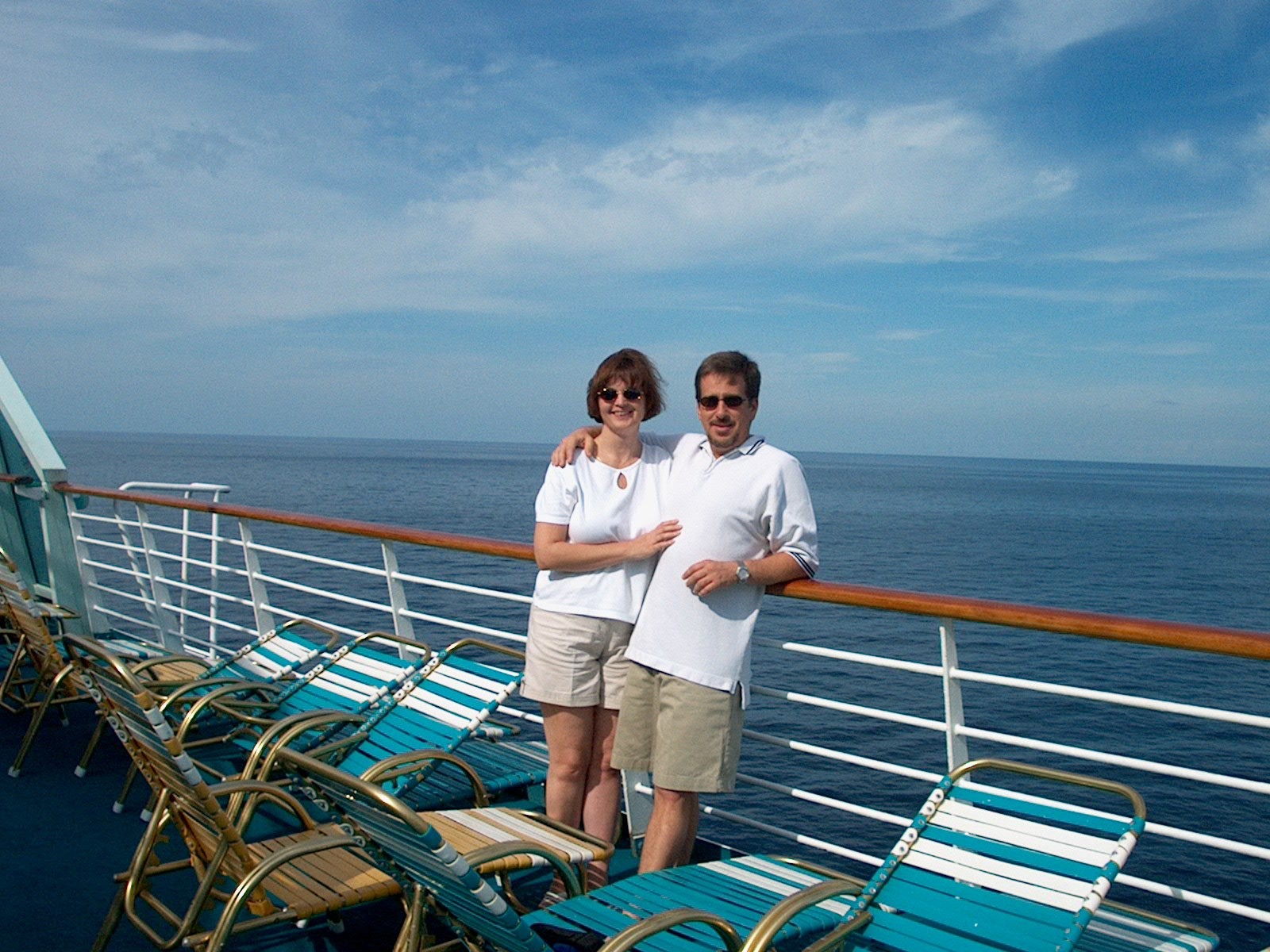 Must be nice...
---
New Rita pics!
---
New pics from Carrie!
Upper right: Alex in curlers. Upper left: Tristin, Daddy's Love
Lower left: Ryan's 1st bike ride. Lower right: Hi Aunt Kimmy!
---
Tim was on NPR!
On 12/08/2001, Tim appeared on the call-in game show, "Wait, Wait, Don't Tell Me", on National Public Radio. Hear the clip of Tim's appearance here. You need RealAudio to listen, which you can get here. Tim won NPR newsman Carl Kassell's voice on his answering machine!
---
Becky had a baby!
Rita Marie Edwards was born on 10/02/2001.
Daddy takes a break from the Wall Street Journal to hold Rita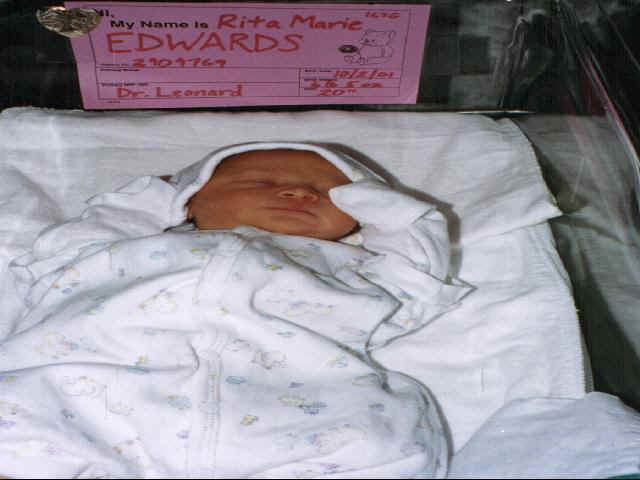 Getting born is hard work! I need a nap.
ZZZZZZZZZZZZZ
---
Becky Got Married!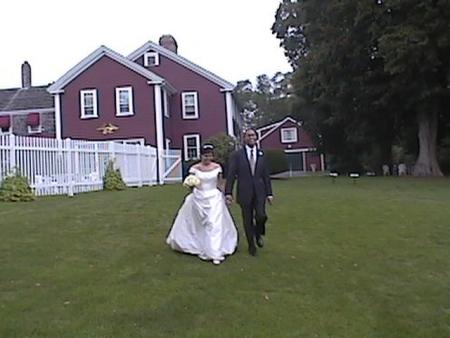 Mr. and Mrs. John Edwards. More photos (courtesy of Bob)
---
Becky's Getting Married!
Here's the wedding invitation for Becky and John's wedding, on September 9th, 2000, on Cape Cod: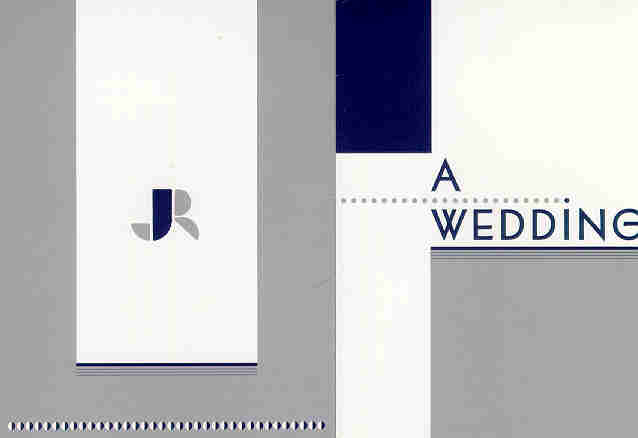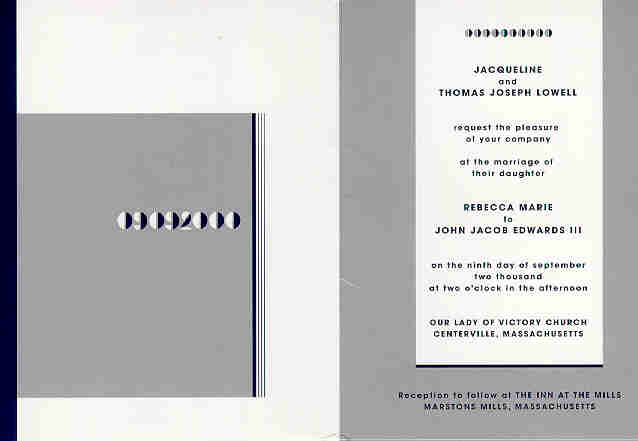 ---
From Jeanette:
I have much to include in the latest news section, many
things and goings on here in Central, NY. Emily has now been diagnosed with
a rare metabolic disorder. I have been informed that it is hereditary and
could have come from somewhere in our Irish heritage. It is unclear yet, but
it something the family should be made aware of.
Some photos of Emily: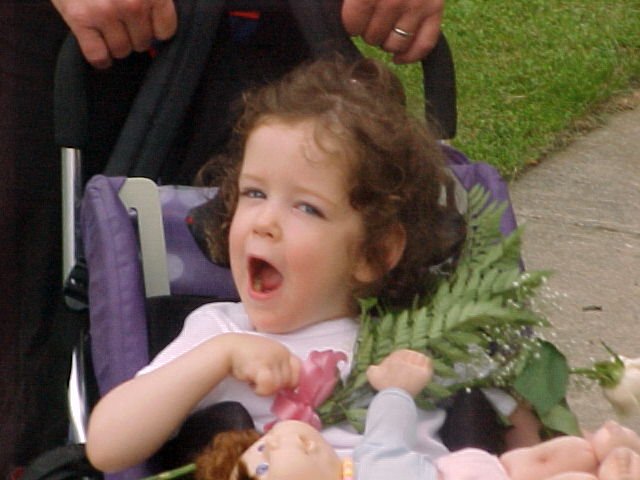 ---
Kenneth W. Lowell, 1924-2000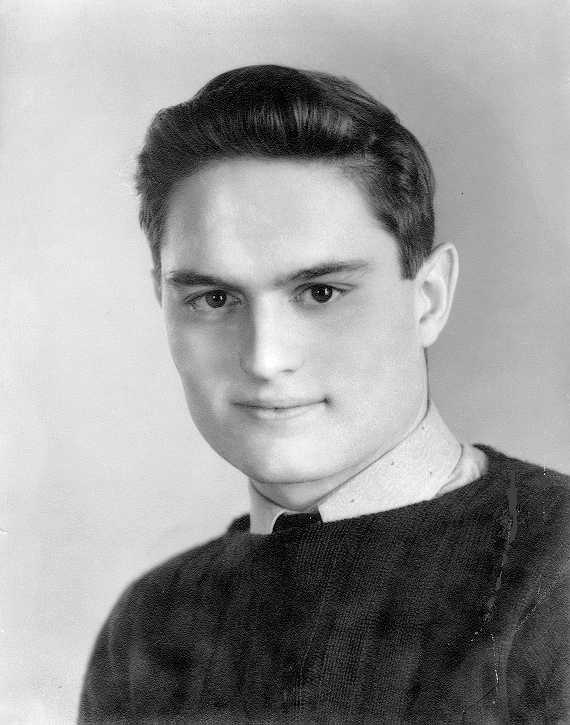 Our beloved father, Kenneth, passed away on January 11th, 2000 at home in Winter Park, FL. He was laid to rest at Bushnell Military Cemetery in Florida. His daughter Diane wrote a moving tribute in his honor which she read at the service:
Just last week Garrett and I were talking and he asked me "Mom, who is the nicest man you know?" I smiled and said, "Well, that's easy." When I think of it now, I realize it isn't just an easy question to answer; it's a question that I really enjoy answering. With a foundation of wonderful memories, it's with pride and love and joy bursting through that the answer will always be "my Daddy."
He was a wonderful husband, a great father, a fun grandfather and a sweet great, grandfather. He unselfishly gave of his time and efforts. Remember how often he'd go down to town to get whatever we were out of from the store? Even though we got 14 quarts of milk delivered every other day, I bet Dad would have been a rich man if he had gotten a dollar for each milk run he had to make over the years!
When we went on Sunday afternoon rides, during simpler times, when Sunday rides were a big deal, I remember that I thought he knew everything, because there didn't seem to be a road he hadn't already traveled or a landmark he didn't know something about. He traveled all over New York State and loved driving. Mom would tease him the last few a years about having to put up with us female drivers!
He loved playing baseball with Bob, Joe, Mike and Tim and coaching them in Little League. He enjoyed the Scramble puzzle. And as we got old enough to be able to do the puzzle, some of us joined in the contest he and Mom would sometimes have to see who could do it the fastest. My memory is that he won most often than not, but maybe Mom remembers different!
On Sundays, he'd often give Mom a break by cooking at least a portion of dinner and we all remember the kitchen sink meatloaf, and apples in salad, or potato bake on the grill outside.
He was patient with teenagers' requests for rides to and from important social events, especially the socialites, Joan and Barb, and when we started driving he was a patient instructor. He loved the story of Carol getting stopped by the police in the Driver's Ed car for speeding and told it more than a time or two!
He helped Mom take care of Gramma and was always ready to fix something for her or go to the store for her. She loved Kenny as she did her own children.
When I was in college, he would pick me up from Syracuse whenever I wanted, since going away from home was a little unnerving for me. Sometimes he would just stop to visit when he was in the area and take me to a little German restaurant near school. I remember he really liked the lentil soup they served.
He traveled far and wide for all of us; Mom on trips to Vermont that she loved taking with him; Bob to Albany, Joan to Oswego; Barb to Amsterdam; Joe to New Hampshire; Carol to Albany; and Eileen and Tim to the North country of New York State; and he loved every minute of it.
He suffered the loss of Mike, the hardest thing he ever had to do, and both Mom and he stayed strong for each other and especially for us kids. I remember we were living in the house we rented, when he came to pick me up from LeMoyne for Christmas and he told me we needed to go by the house, the house he'd built, which was home for so many years, to check the pipes to make sure they hadn't frozen. We walked in the back door, and there were Mom and Beanie and Tim yelling, "Surprise"!! Dad really enjoyed doing that.
He loved children and his grandchildren benefited from that. He taught them how to play cards and played with them. Maybe he got a little irritated when an eight year old beat him, but he was a good sport!
In the last few years he enjoyed the Florida warmth, watching airplanes overhead, and watching sports on TV. He knew when any event of interest was on and what channel it was on. He wouldn't miss a Mets game when they were on down here if he could help it. It was a sad day when WOR out of New York was dropped by their cable station! He would laugh with great satisfaction when he could get the better of us. With gesturing he would remind us of medication we'd forgotten or his pillow left in the car. He enjoyed the spring training games that Tim took him to.
We all have a lot of great memories and it's been nice sharing them.
I recently saw a quote. Please forgive me for not remembering whom it was attributed to, but it went like this: "Well done is better than well said." I think Dad lived that; he wasn't showy and he didn't need attention. He just did what was right with love and care for those he loved. So we'd all like to say, thank you, Lord, for giving us as husband, father, grandfather and great-grandfather, the nicest man we've ever known.